Our Holiday SALE is now on! Save Big on BIG Brands such as Yamaha, Pioneer, Cambridge Audio, JAMO, Oberon, Onkyo, SONANCE and more!
Our final year and sale is valid until the 20th of December, so take advantage of these great deals now!
go now
In June of 2023 Cinema Architects launched its brand new experience centre in Kramerville, Sandton.
This world class showroom has been designed to showcase home automation solutions in the best possible way, by having functioning rooms just like you would have in your own home. The showroom features a master bedroom, dresser, functioning kitchen, lounge, whiskey bar and no less than two home cinemas.
Read more
Signature Experience Centre now open
It takes vision, perseverance and 40 years of knowledge to create a company that is always at the cutting edge of technology and design. Cinema Architects is an Award Winning audio visual company creating some of South Africa's most unique home cinemas' that are internationally acclaimed.
It also takes a visionary with ruthless perseverance to be the best. CEO, Schalk Burger has been the driving force behind Cinema Architects for four decades.
learn more
Movies, sports, and even video games are all brought to life with a custom home theatre. Imagine a dedicated room in your home, well equipped with a high-resolution 4K UHD projector, a CinemaScope screen, heart-pounding Dolby Atmos 9.1.6 surround sound speakers, plush leather seating, and just the right lighting to set the mood. That room will become your entertainment oasis.
read more
Here at Cinema Architects, we supply and install state-of-the-art home automation systems that allow you to control everything in your home with the touch of a button. Whether you desire to replace multiple remote controllers with a single elegant touchpad or operate your home systems from any mobile digital device, we will turn your house in a sleek and modern work of art.
We are able to program multiple lifestyle scenario settings for your home system for example if you are out of your house and realize you forgot to turn off a light, you can simply choose an "Away" setting on your mobile device that will remotely turn off all lights, music and TVs as well as adjust your HVAC settings as desired. Not only are you being environment-friendly, but you are also cutting down monthly electricity usage for your family.
read more
Multi room AV distribution
Our Audio Distribution Systems are high quality and easy to use, providing your family with easy listening for years to come. Audio Distribution is the best way to extend the way you live in your home. Have your playlist play throughout the house so that you can move about without disruption. Alternatively, you can play different music in different rooms so that each individual can listen to their own custom playlist.
read more
our busy schedule doesn't have to get in the way of keeping your home beautiful, day and night! At Cinema Architects, we are dedicated to saving you time, electricity and ultimately money. By having an efficient lighting system, you are making an investment in your home.
Our advanced lighting control system allows remote access of your lighting system. Be welcomed home by a well-lit drive-way and a cosy indoors. Adjust lighting in all or individual rooms with a touch of a button. Not only is this a time-saving investment but also an increase in the security of your property.
read more
Whatever your room size and application, you'll find there's a Genelec loudspeaker model that is perfectly suited to your needs.
Genelec is a world leader in active monitors being used as reference in the best studio environments in the world. This technology is now available for home AV applications.
Learn more
Welcome to Cinema Architects
The A Team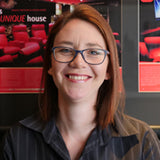 I'm the guru behind the super technical drawings required to make the fancy stuff work :)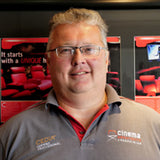 I'm the guru that marries km's of cable together and sets up your home theatre!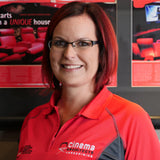 I'm the guru that turns your dream into a reality with fabrics and fixtures fit for royalty!
THE SIMPLICITY OF BLUESOUND
Kramerville Experience Centre
Cinema Architects
8 Desmond Road, Kramerville, Sandton
MON - FR 9am - 4pm
SATURDAY 9am - 1pm
SUNDAYS CLOSED
Get directions